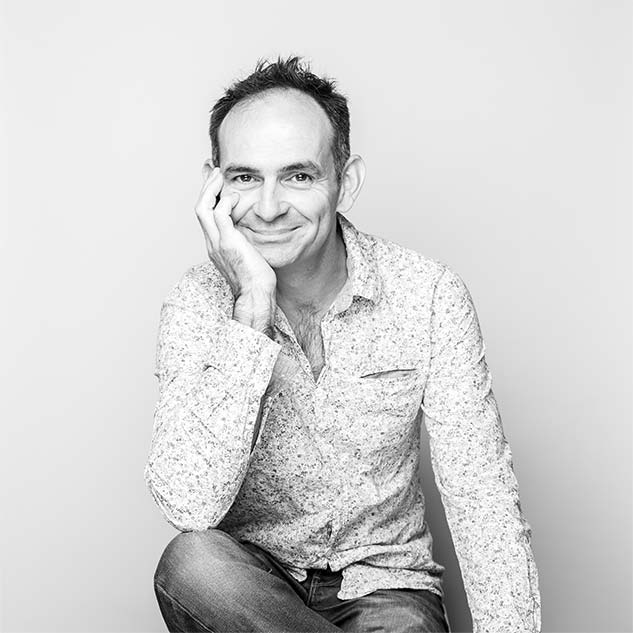 Romuald Fleury
Designer / Craftsman
Since childhood, Romuald Fleury spent a lot of time at the family ironwork studio, where he acquired his passion for working with metal.
A motor sports enthusiast, after completing his studies in industrial design and mechanics, he spent 8 years following the world motor championships as a mechanic and on-site support technician. His job was to devise solutions with no technical or material limits. During this time, he learnt flexibility and creativity.
He then changed direction and spent 10 years learning the skills of cabinetmaking and interior design. With a customer-focused approach, he now creates unique bespoke pieces of furniture; the designer/craftsman was born.
Romuald Fleury is creative, authentic, professional and customer-oriented. He has a generous personality and loves collaborations and partnerships. But first and foremost, he is a simple, approachable man who wants to stay that way.
A pencil in hand, Romuald always adopts a design-based approach for his creations; his taste for an immersive journey, modern architecture, nature and pure aestheticism are reflected in his work. Mixing of materials is his trademark.
Freedom.
From a one-off piece to a small run, Romuald has a free, open and flexible approach, devoting his expertise and taste for experimentation and prototypes to the furniture and interior design sector.
This free spirit enjoys collaborating, working with others, learning and sharing, and tackling technical challenges.
Customer satisfaction.
Romuald Fleury also listens carefully to his customers. Satisfying a customer's desires is what drives him, whether the customer is an interior designer, hotelier, doctor or just a lover of fine, sleek furniture, whether they are based in Occitanie, Ile-de- France or abroad.
Sustainability.
His studio located in Lunel near Montpellier uses local suppliers; his preferred wood is oak, locally sourced in France. Environmentally aware, Romuald is very committed to Made in France and the sustainability of his products.
Romuald Fleury designs furniture and decorative items inspired by contemporary architecture. With a free flexible approach, the designer/craftsman combines technique, know-how, materials and aesthetics to create sleek, graphic and airy pieces.
Butterfly Sofa and Chair, Air Console, Canopée Table. The names of his creations reflect their lines: light, modern, aesthetic and natural.
By focusing his work on noble materials, with a predilection for wood, metals and glass, Romuald Fleury offers a unique character to each piece he makes.
Romuald Fleury is a craftsman, supported by:

The Occitanie region
under the Pass Metiers d'Art programme

The Nouvelle-Aquitaine region
under the AMI Design programme and via his collaboration with
Estelle Matczak