Romuald Fleury
Artisan Designer
Furniture Designer with unique character
Romuald Fleury Artisan Designer, a new brand in the selective and demanding landscape of design, offers creations fed by inspiration and know-how accumulated over many years of crafting and shaping as well as immersive journeys, added to a taste for modern architecture, design and nature.
Armchair and Sofa "Butterfly", Console "Air", Table "Canopée"…the names of the creations are in the image of the lines that compose them: light, aesthetic and natural. By focusing on noble materials, with a predilection for wood, metal and glass, Romuald Fleury gives unique character to each piece he creates.
Focused on quality in every detail
The mind that imagines and designs, the hand that cuts, shapes and assembles the piece in the workshop: this is the path that leads to the making of any product branded by Romuald Fleury Artisan Designer. Expertise and meticulousness that are also found in the listening and accompaniment service for the realization or design of customized furniture projects, the requirements for quality being beyond the limits of the single object.
Responding in all aspects of his services to the codes of high-end creation, Romuald Fleury Artisan Designer invites you to discover his unique approach to design: that of a simple meeting, generous, beautiful and necessarily unique.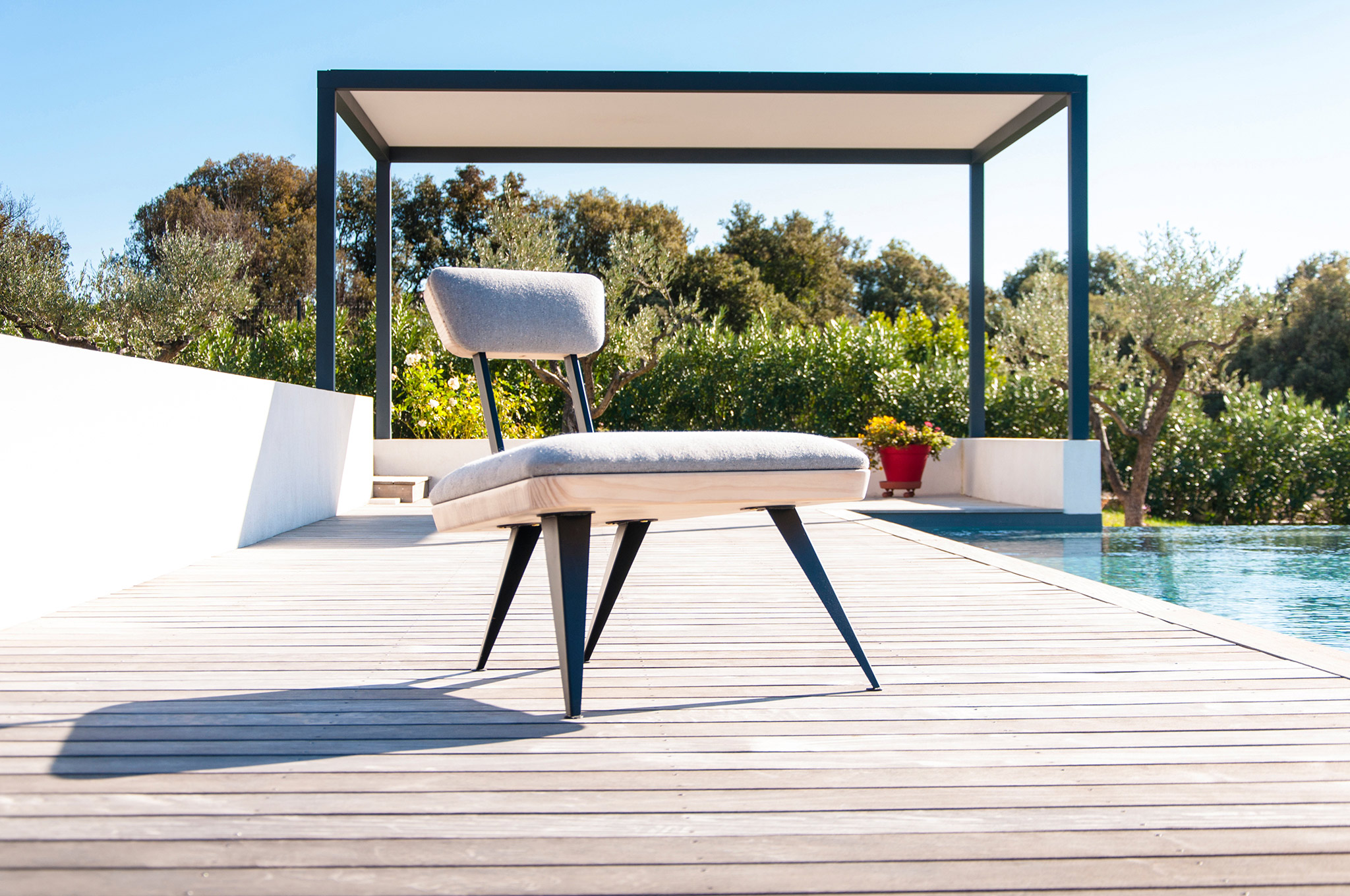 Rich personal background
Romuald Fleury Artisan Designer is the resulting imprint of a background rich in accomplishments and inspirations, branded on sober, refined and warm furniture design and interior layout.
From the art of ironwork he learned from his father in the family workshop, to the know-how of high-end mechanical engineering in the service of world-class motorcycle teams for years and on every continent, and to the creation of his own interior design structure through which his talent as a designer bloomed : every experience Romuald Fleury has had connects today around the creation and careful manufacturing of pieces built on demand for specific needs.
Channeling creativity
Today, in terms of needs, he first considers his own : the need to shape and to share his taste for pure lines, the need to alter and transcend noble materials as well as expressing his creativity through unique and elegant design, that he now presents as an eponymous brand.
Consoles, seats, tables, specific interior arrangement designed to optimize spaces… Every project is tackled from its technical, functional and aesthetical aspect, the sum of constraints enabling the designer to challenge his creativity and find the most interesting global solution.
Innovation is a requirement
Because he masters the whole properties of the materials as well as the various techniques required to shape them to his will, the workshop where he manufactures his furniture pieces becomes a den of innovations inside which, in the image of the Console "Air" created from massive wood and glass, the alliance of opposites brings them to transcend their own nature.
And because his quality requirements exceeds the sole manufacturing of his products, Romuald Fleury Artisan Designer is also a service of counselling and accompaniment in every moment, courteous, efficient and careful in every exchange.
Responding, through the pureness of aesthetics as well as the selection of materials, to the codes of high-end furniture creation, the artisan designer shapes, along with his inspirations or on demand, refined and comfortable furniture pieces bringing that intangible touch of discreet charm to the places they are set in.
Discover every piece of furniture crafted by Romuald Fleury, Artisan Designer
Designed to be adapted to any interior, hand-crafted in his workshop with care and passion selecting exclusive quality materials, they can entirely be personalized to match your interior and your wishes.
Romuald carefully listened to my expectations cefore creating this console. It meant a lot me to research for the lines of this furniture that I dearly wanted, and Romuald Fleury gave me absolute satisfaction.
Marie-Cécile B.
I met Romuald Fleury at the Ob'Art convention in Montpellier. I was instantly seduced by his search for quality in selecting and choosing materials. A must-see furniture designer for the originality of his creations.
Xavier F.
I was looking for my whole family for a table that was unique and original, to eat or help the children with their homework. I found in Romuald Fleury a careful listener and he personalized for us his Table K.Ro : magic !
Chantal P.
In perfect match with your own style
Each and every creation by Romuald Fleury is entirely hand-crafted and can match your own personality: sizes, materials, finishes …many options enable you to personalize your selected piece of furniture according to your own wishes.
Contact me so we can talk about your projects:
This error message is only visible to WordPress admins
Error: No posts found.
Make sure this account has posts available on instagram.com.